Amazone ZA TS 4200 Profis Hydro
Type of ad : For sale / Offers
Reference : 46618-8XQLUY
Make : Amazone
Model : ZA TS 4200 Profis Hydro
Status : Used – Condition not indicated
Year : 2014
Approximate year : No
Width : 0 ft
Capacity : 0 gal
Price : on Request
Deutz-Fahr 5100 P
Type of ad : For sale / Offers
Reference : 46618-QGXXZ2
Make : Deutz-Fahr
Model : 5100 P
Status : Used – Condition not indicated
Year : 2014
Hours : 358 h
Power : 95 Hp
Dimension of front tires : 420/70R24 / 420/70R24
Wear of front tires : N/A
Dimension of rear tires : 480/70R34 / 480/70R34
John Deere 9640 WTS HM
Type of ad : For sale / Offers
Reference : 46618-LAPDKV
Make : John Deere
Model : 9640 WTS HM
Status : Used – Condition not indicated
Year : 2004
Engine hours : 2 842 h
Cutting width : 0.20 ft
Sundry equipment : Cabin , cutting unit carriage , straw chopper , chaff-spreader , corn equipment
2006 CATERPILLAR 345BL II
Brand CATERPILLAR
Model 345BL II
Year 2006 Category
TRACKED EXCAVATORS
Serial Number 17774
2012 KOMATSU WA600-6
2012 KOMATSU WA600-6
Brand KOMATSU
Model WA600-6
Year 2012
Category Wheel Loaders
Inventory number 13953
Serial Number KMTWA097V29060952
Food Processing Machinery
Manufacturer: Verplanet (Spain)
Year unknown, most 2003
Capacity 900 wafer plates per hour
Still in production
Consisting off:
Wafer dough mixer with
2 sides feeding
2 Plate dough filling
Plate closure
Oven 60 plates (2×30 plates) (Hebenstreit)
Gas heated
Wafer plate discharge
Transport to Ambient
Arch cooler
Arch cooler capacity 100 plates
Automatically plate infeed
2 Creme filling machines
Wafer plate stacker
Arch forced cooler, capacity 100 double plates
Isolated cabinet with one door
Discharge transport
Wire cut slicer 4 rows length
Second wire cut slicer 7 rows cross
Manual take off from a conveyor
Electrical 220/380V – 3
Ph – 50 Hz
Length 29 meter
Width 8 meter
Height 4,1 meter
Metal Working & Handling Machinery
Edge banding machine premilling SCM Olimpic K800
Machine type Edge banding machine premilling
Manufacturer SCM
Model Olimpic K800
Year of manufacture 2011
Condition good (used)
CNC Turning and milling center INDEX G200
Machine type CNC Turning and milling center
Manufacturer INDEX
Model G200
Condition good (used)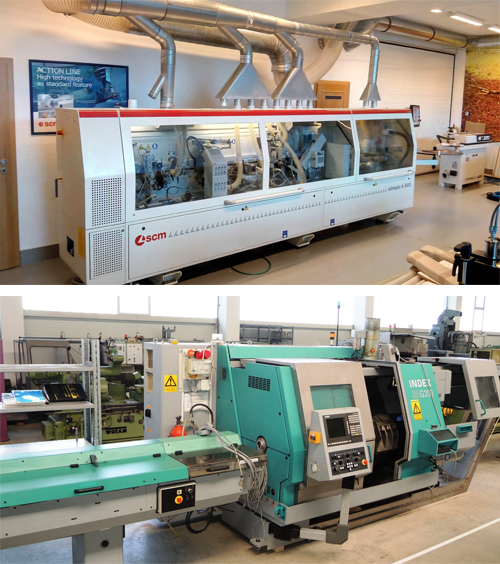 Automatic 5L Pistons Filling Machine

Machine type Edge banding machine premilling
For sale automatic 3 head 5L piston filling machine. This is a refurbished SP filling machine with new control system. The machine is electrical and pneumatically driven.
This machine has adjustable fill volume up to 5L on each piston and driving nozzles for foaming products/liquids.
Please see the video below of the machine running:
Komori LS 529 HC
Age: 2009
Max.Size: 75 x 53 cm (29 x 20 inch)
Current State: In stock
Colors: 5
Impress.Count: 123 mio
Extras: | Autoplate | Ink
Remote Control | Touch-screen Control | Coater | Autosize | Dryer | CIP
Price: on Request
Heidelberg PM GTO 52-4
Age: 2002
Max.Size: 52 x 36 cm (20 x 14 inch)
Current State: In stock
Colors: 4
Impress.Count: 36 mio
Extras: | Ink Remote Control | Touch-screen Control
Ryobi 3304H
Age: 1998
Max.Size: 45 x 34 cm (17 x 13 inch)
Current State: In production
Colors: 4
Impress.Count: No counter
Extras: | Ink Remote Control
Price: on Request
Gallus RCS 330
Age: 2005
Max.Size: 45 x 33 cm (17 x 12 inch)
Current State: Dismantled
Price: on Request